Stats:
Name: Todd Jarrett
Hometown: Hopewell, Va.
Shooting Since: My father started taking me deer and turkey hunting when I was 6 years old.
Shoot: I just love to compete in anything that goes bang. I've shot in 17 different disciplines in my career from pistol, shotgun to rifles. But currently I'm hooked on 3gun,PCC and long range PRS shooting.
Who introduced you to the sport? Co-Worker and mentor at a local indoor shooting range in Richmond, Va.
Favorite Shooting Memory: Getting to tag my 1st deer at the age of 7. #2. Winning my first US National Championship 1991.
How did you get into competing? Some of my 1st action shooting sports memories were bowling pins shoots and PPC matches. They were really big back in the early 80's. This was the start of many of the action shooting sports that I started with like IPSC, USPSA, IDPA, SASS, Steel Challenge and 3 Gun as we know today. Just fun times for myself, for this propelled me into who I am today.
How do you prepare for a competition? I want to know my equipment and gear are ready to compete. That means getting yourself to the range and having the confidence that you know how to operate your firearms safely for the next match. Know where your firearms are hitting. Zero, Zero and then recheck again. Now clean everything.
What's your longest shot? Shot a 500yds target with a pistol in front of 5000 spectators. Yep, 1st shot and it was all luck.
Favorite Hoppe's Product:
No. 9 Gun Bore Cleaner "It has a distinct smell that goes back for me as a kid. I remember my father showing me how to take care of the family firearms".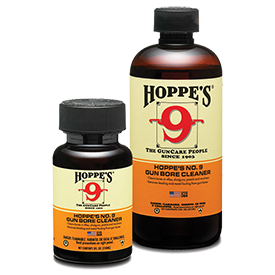 Learn More About This Product
Top Accomplishments:
Winner of the IPSC World Championship 1996 – placed 2nd in 1999, 2002 and 2005
13 times USPSA National Champion
3 times World Steel Challenge Champion
1st Triple Crown Winner in USPSA
Shooting 1000 rds from a 45 ACP with a 1911 in 10 mins. 43 seconds filmed for the Outdoor Channel