IMPORTANT SAFETY RECALL
HOPPES SEMI-AUTO GUN BORE CLEANER
Hoppe's has determined that its current packaging configuration for its Semi-Auto Gun Bore Cleaner has a child-resistant cap that can become loose. Chemicals in this product can cause skin irritation or serious injury or death if ingested and aspirated. No other Hoppe's product is affected by this recall.
Item# SA904 - Relevant to product sold from January 2010 to Present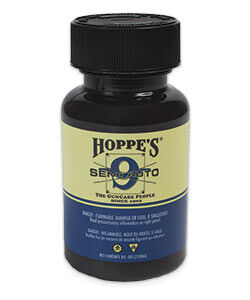 Current Packaging Plastic bottle, blue and yellow label & plastic cap
Immediately discontinue use of the product, ensure that the cap is secured on the bottle and keep out of the reach and sight of children. Hoppe's will replace affected product with a free bottle of Hoppe's No. 9 Synthetic Gun Bore Cleaner.
If you have questions regarding this recall please call a Hoppe's customer service representative at 1-800-796-4760. This recall is being conducted in cooperation with the U.S. Consumer Product Safety Commission - Read the press release.
Step 1
Remove the label or the UPC code portion of the label from your bottle(s) of SA904 for mailing.

Step 2
Dispose of your bottle at a household hazardous waste facility in your area or according to local regulations regarding hazardous waste. If the bottle is leaking, place in a plastic bag before transporting.
Step 3
Complete and submit the form below and well send you an email containing your recall claim number and UPC code mailing instructions.
* Indicates a required field.