Stats:
Name: Jessie Harrison
Hometown: McDonough, GA
Shooting Since: I grew up shooting firearms with my family, but started competing at the age of 15.
Shoot: USPSA & IPSC, Steel Challenge, Bianchi Cup
Favorite Shooting Memory: Just being on the range with my family, throughout all my life.
How did you get into competing? My dad is a world champion shooter and introduced me to competitive shooting, and in 2000 I decided to enter into my first competition for Cowboy Action Shooting. 18 years later, and I'm still enjoying it.
How do you prepare for a competition? I spend many hours on the range preparing for different championships, but off the range I spend a lot of time in the gym. I like to stay in good physical condition for the more active type of matches I shoot. I also find things to help me relax so that I have clarity and a good metal outlook as well.
What's your longest shot? Longest shot would at the White Buffalo at the NRA Whittington Center, 1120 yards.
Favorite Hoppe's Product:
Elite Gun Oil. "I use this the most when cleaning my pistols. Its effective and easy on your skin!"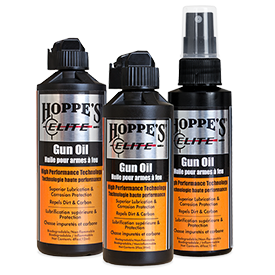 Learn More About This Product
Top Accomplishments:
1st USPSA Lady Grand Master
18 Ladies World Speed Shooting Championships
18 Ladies National Speed Shooting Championships
4 Ladies Bianchi Cup National Championships
18 Ladies USPSA National Championships